About Us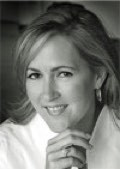 Rebecca Brooks, founder of Capritime Tours, Inc., graduated Summa Cum Laude from University of Houston with a double degree in English and Italian Studies and completed her Master of Arts degree in Italian Studies at the University of California, Berkeley. In Italy, Rebecca followed several courses at the University for Foreigners in Siena.
Rebecca has been providing private tours in Italy since 1994 and has an in-depth knowledge of Italy, its customs and traditions. While Capritime Tours, Inc. specializes in tours of the Campania region, Rebecca has extensive knowledge of Tuscany and many of the other regions of the Italian peninsula. Rebecca organizes tours throughout Italy for prestigious groups such as Young Presidents Organization, World Presidents Organization, Chief Executive Organization, University of Texas, and Trinity College Elderhostel Programs in Italy.
Rebecca, Just wanted to drop you a line to let you know how much David and I enjoyed the boat trip. Could you pass our heartfelt thanks onto our captain who was amazing, and a special thank you for David's birthday cake. I have attached a couple of photos as well. It will be one part of our honeymoon that we will always remember fondly! Many thanks once again,
Our recent tour on the wooden grotto boat around the Isle of Capri was awesome. It was very relaxing and exciting for us. We also appreciated the US Flag flying on our boat along with the flag of Italy! The beautiful scenery, our tour and lunch at the cafe afterwards was a most enjoyable day for us. I would recommend visitors touring the Amalfi coast and booking a Capritime Tour! Thanks for meeting us at the dock. Best wishes to you and your fiance.
Hi Rebecca, just wanted to drop you a note now that we have returned from our Italy trip. We absolutely loved our time on the Capritime boat. Michael was a great captain, appropriately reading our need to just relax and enjoy. Swimming in and around Capri was definitely the highlight. We cannot thank you enough for your professional services. Lifetime memories were created of a most beautiful place...a priceless investment! Thanks so much!!
Hi Rebecca, just wanted to let you know that we appreciated all the arrangements you made for us for the transfers and boat tour of Capri. Everything worked out perfectly. Fabian was excellent, as was Cristian. Thanks for your help - you made our trip to Capri worry-free!